HUGE updates are coming to APUSHReview.com. By August 15, 2015 – in time for the new school year – I will be updating this website with MANY more RESOURCES to help teachers and students. If you've found this website helpful, just wait, it's only going to get better. You haven't seen anything yet. As always, everything will be FREE too…….
If you have suggestions for how I can make the website better, or something you would like to see added, please email me at Adam@APUSHReview.com.
Thank You!
On May 7, 2015, the day before the APUSH exam, many records were set at APUSHReview.com. More than 26,000 people visited the website from more than 25 countries, and there were more than 280,000 views on my videos. I am so grateful for your support! Please come back when you get your scores and let me know how you did. Best of luck with the rest of the school year!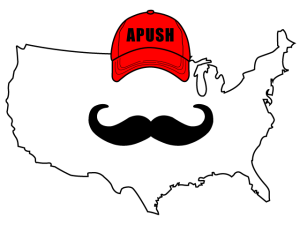 Welcome to APUSHReview.com.  My goal is to provide you with everything you need to get at least a 3 on the exam in May. I currently have videos and PowerPoints for two popular textbooks: The American Pageant (13th edition, although others match up) and American History (14th edition, again others will match up.) I am currently working on a third textbook, America's History, 8th edition. I am also committed to providing content for the updated AP US History curriculum. Please look around, download materials, and let me know if you have any questions. You can email me at Adam@APUSHReview.com. Thanks and good luck!
To download the new APUSH curriculum, click here: