"The children now love luxury; they have bad manners, contempt for authority; they show disrespect for elders and love chatter in place of exercise. Children are now tyrants, not the servants of their households. They no longer rise when elders enter the room. They contradict their parents, chatter before company, gobble up dainties at the table, cross their legs, and tyrannize their teachers."
The above quote has been attributed to Socrates well more than 2,000 years ago (although it is debated if he actually said it). I use this quote as an intro to my first lesson on immigration. I have the students imagine when the quote was said, what type of person would support it, and if they agree with it. (I do not reveal it is Socrates until after the discussion.) I then make the connection to immigration and how the arguments of today are the same arguments from 100s of years ago. After completing a lecture using APUSH-Review-"Old-Immigration"-and-Nativism PowerPoint with the handout, "Old Immigration"-and-Nativism-Video-Guide, I have the students answer the following multiple-choice questions.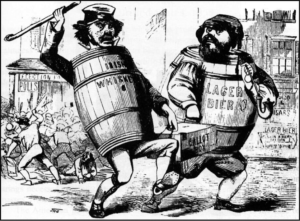 1. The creator of the image would most likely agree with which of the following statements?
a. Irish and German Immigrants made positive contributions to American society
b. Rising xenophobia should not be a concern of Americans
c. Immigrants' political power should be limited
d. Immigrants should retain their religious and cultural practices in the United States
2. The immigrants represented in the cartoon most likely settled in which two regions of the United States?
a. The Northeast and Midwest
b. The South and Southwest
c. The West Coast and Great Plains
d. The Pacific Northwest and Southwest